Is Empower Network Legit?  I must have gotten this question from everyone when I first told them what I was doing with my Internet business.
My old co-workers asked me.
My friends asked me.
My wife asked me.
But Hammer was in my head…
And I knew it was "too legit to quit".
It's true that most people can't get their head around the fact that you can actually earn thousands of dollars online from selling information products…
Especially, when you do a search for Empower Network and you see a bunch of pages in the search results that all say Empower Network is a scam.
I explained to people that's what people to do to get traffic from people who are thinking about joining Empower Network, but if you've never gone down that path, it's hard for someone to get.
Is Empower Network Legit? – My Personal Experience
When I joined in April 2013, I had no doubts Empower Network was legit.
Why wouldn't it be?
I saw posts all over Google and Facebook about people having their first successes.
And I also saw people who were going crazy with their marketing…
Spamming their affiliate link all over Facebook that Facebook blocked the empowernetwork.com domain.
I don't think this was really someone at Facebook passing judgement on Empower Network, but an automated process that was triggered because thousands of people were posting their link all over the groups.
That's not the best way to market an opportunity, but I can understand people's enthusiasm (and maybe, desperation) about getting results.
When I joined, I immediately started following the steps and focused on blogging daily and sending paid traffic to a custom squeeze page.
Within my first 30 days, I made my first $25 commission, and within my first 45 days, I had my first $1625 day (Results Not Typical – See Income Disclaimer).
At that point, the test was whether I would actually get paid.
Is Empower Network Legit? – Getting Paid Weekly
Empower Network pays its commissions on a weekly basis to its affiliates.
When you make your first commission, I think there's a week holding period, then the commission is paid out.
So for your first commission, you actually get paid the following.
But once you make several sales, you start getting paid weekly.
In the past year I've been involved, Empower Network has never missed a weekly payment so I don't see any issues there.
Is Empower Network Legit? – Income Disclaimers
Since so many affiliates in Empower Network are earning commissions, the corporate office provides a lot of guidance on how to effectively use income disclaimers.
Whenever an organization produces a lot of money, the government is going to watch it like a hawk.
This doesn't matter whether it's mlm, investments, gambling, alcohol, tobacco, television, movies, radio, advertising, or pharmaceuticals.
Some companies don't care how their affiliates promote because the more commissions the downlines produce, the more passups the company owners receive.
Empower Network is different.
The company owners understand there is a ton of money to be made, and they are marketers themselves who are capable of generating massive amounts of income whether they're running Empower Network or promoting something else.
However, since Empower Network is a good thing, and it works, the company owners want to make sure affiliates are trained on how to properly provide guidance on income claims.
It only takes a few rotten apples to sour the whole lot so when people are succeeding and promoting their results without disclaimers, that can create issues for everyone.
Obviously, the company does not want that to happen.
It's certainly much riskier when dealing with independent sales reps (affiliates), then when managing a sales organization of at-will employees because you have more control over your own employees regarding following specific policies and procedures.
I think Empower Network corporate does a good job with their compliance training to keep affiliates on the up and up.
Is Empower Network Legit? – My Personal Results
For the first six months with Empower Network, I went really hard with paid traffic to sign up as many people as I could.
And it totally worked!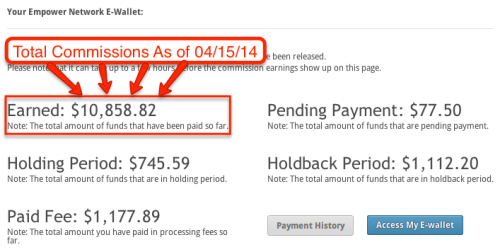 I was able to bring in over 90 people resulting in over $9,000 in commissions  (Results Not Typical – See Income Disclaimer).
The issue though with the paid traffic was that it was extremely cold so most people joined at the $25 level (a few upgraded to the $100 level) and stuck around for about 3 months, then quit.
This part can be challenging with Empower Network because your team needs to engage and make a commitment to upgrading to the other products.
This was a learning experience for me because I had never promoted a network marketing opportunity before and didn't know anything about building a team.
Now that I know what I need to do, I'm focusing on more targeted traffic as well as providing free training to people before joining me in Empower Network so they understand how to be successful.
Is Empower Network Legit? – Conclusion
From my personal experience with building a team and receiving commissions with Empower Network, I can honestly say they're completely legit, and they care about the success of their affiliates.
When more affiliates succeed and are able to produce results, it helps all affiliates and the entire organization to grow.
If you're thinking of joining Empower Network, I recommend you go through my free boot camp so you can learn how to position yourself to get the most out of being an Empower network affiliate.
Learn How A Blog Like This Can Make YOU $1000+ Per Day
Is Empower Network Legit?  Yes, I think it is.